When I started practising the Law of Attraction principles that I discovered back in 2005, for me, it was all about manifesting the tangible; manifesting what I wanted from my business to my relationship, to the penthouse, to the Mercedes and, of course, plenty of money. Having my own business in real estate was an incredible way to play with manifesting sales, new business and the money flow. It was so much fun.
As my spiritual growth has expanded and since moving fully into being the Abundance Activator, particularly over the last 12 months, my deep spiritual connection has proven how multi-dimensional we are.
With these experiences, I was very much in the "woo-woo", if you like, and its a  wonderful place to play. But the thing is, we are still here, having this human experience on this earth and that means that I need to also be grounding things, making things happen.
I had a huge personal realisation last week. I was helping my friend Fiona look at cars (I love cars, always have), so this was a fun thing for me to do. Anyway, she chose a new Mercedes GLA. While we were waiting at the sales consultants desk she pointed at the most beautiful Mercedes GT AMG Roadster. She said to me, "You will have one of those in the future".
As I looked at the car I realised that I currently didn't have any focus on something that was material, that in fact there was nothing like that in my field of manifestation. I said to her then and there "Yes, why not!".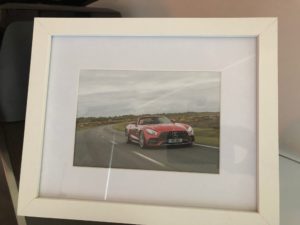 That evening I sat with my experience and I realised that yes, I did definitely want to manifest that car, but it needed to be red and a convertible, so I googled the exact image of what I want and I have framed it in my office in eye view from my desk. I also realised that the only thing holding me back from manifesting it was my limited self, my limiting mind and also the lack of vision and focus on such a thing.
The big realisation was that I had disconnected from bringing forth something tangible, just for the fun of it, and I also realised I had been very much in the "spiritual" and my focus had been on my growth. The thing is, the car also represents where I want to take my business and how I am choosing to support my clients fully in their abundance.
You see, through harnessing both our focus on what we would love, our spiritual power, our connection to source, and being truly aligned with all of it, trusting and allowing as well as taking the steps it will manifest. It is Law. The Law of Attraction. It has to manifest!
And why not? Why not bring forth what we would love. After all, we did decide to come and have this human experience, with all the unlimited beauty and gorgeousness that life has to offer right at our fingertips.
I say go for it!