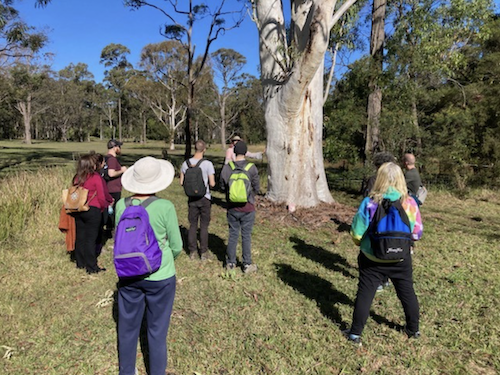 Happy June! Can you believe we're already halfway through the year? As we reflect on our progress and intentions, let me share with you a magical experience that unfolded during the recent retreat I facilitated at the sacred land of Numagi.
Numagi is a place of deep connection — a realm where the spirits of the land, trees, plants, birds, and animals intertwine. It resonates with healing energy and profound wisdom, eager to impart its teachings to those who are open to receiving them. During our retreat, we were lucky to have the guidance of Aunty Babanginy, who led us on a wonderful guided walk on the land.
I arrived at the direction tree that directed me towards an ancient and giant Eucalypt tree surrounded by much young growth.
As I placed my hands on the trunk, a message came through for me. The tree acknowledged my progress and the work I do in service to serving others. Yet, it gently questioned why I hesitated in fully expressing myself, being seen, and heard.
It highlighted my hesitance in creating my podcast and amplifying my messages.
The ancient Mother Tree had spoken, echoing a profound irony as I had initially committed to fulfil my purpose, inspired by my own mother.
This awakening encounter propelled me to reflect deeply upon my actions and intentions.
It was time to reclaim my voice and cast aside the self-imposed limitations that had kept me from fully sharing my gifts.
So I committed to my retreat attendees to resume my podcast episodes and amp up my communications. So here we are.
Join me in this podcast episode as I recount the tale of how I threw my toys out of the cot — an empowering metaphor for shedding the limitations that hindered my growth.
Together, we'll explore the importance of embracing our true selves, stepping into the spotlight, and fearlessly sharing our unique voices with the world. You can listen in here:

But that's not all! I invite you to join me this Saturday, via Zoom, for our regular fortnightly meditation session at 9:30 am AEST.
It's an opportunity to cultivate inner stillness and connect with like-minded individuals on a journey of self-discovery. If you are not on the Zoom list please email me to be added.
Meeting ID: 852 9801 2437
Passcode: Love
Additionally, we have two spots available for our upcoming Winter Solstice retreat at Mapleton. If you're curious about this transformative and magical experience, message me for more information.
Immerse yourself in the magic of the Winter Solstice, connect with nature, and delve deeper into your own inner wisdom.
The Mother Tree has spoken, and may her message resonate within us all.
To join the meditation session, simply click on the link provided above. Let's come together and embrace the callings that await us.

With love and abundance
Jason